Topics on this page
---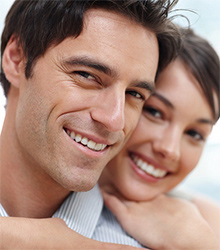 Regular Exams and Cleanings
Regular exams are an important part of maintaining your oral health. During your regular exam, we will:
Check for any problems that you may not see or feel
Look for cavities or any other signs of tooth decay
Inspect your teeth and gums for gingivitis and signs of periodontal disease
Perform a thorough teeth cleaning
Your regular exam will take about 45 minutes. Each regular exam includes a detailed teeth cleaning, in which we will clean, polish, and rinse your teeth to remove any tartar and plaque that have built up on the tooth's surface.
Visiting our office every six months gives you the chance to talk to the doctor about any questions you may have about your oral health. Regular exams are offered by appointment only, so please contact our practice today to schedule your next dental exam and teeth cleaning.
---
Extractions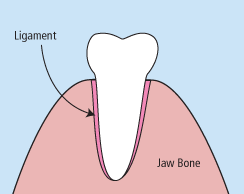 There are times when it is necessary to remove a tooth. Sometimes a baby tooth has misshapen or long roots that prevent it from falling out as it should, and the tooth must be removed to make way for the permanent tooth to erupt. At other times, a tooth may have so much decay that it puts the surrounding teeth at risk of decay, so your doctor may recommend removal and replacement with a bridge or implant. Infection, orthodontic correction, or problems with a wisdom tooth can also require removal of a tooth.
When it is determined that a tooth needs to be removed, your dentist may extract the tooth during a regular checkup or may request another visit for this procedure. The root of each tooth is encased within your jawbone in a "tooth socket," and your tooth is held in that socket by a ligament. In order to extract a tooth, your dentist must expand the socket and separate the tooth from the ligament holding it in place. While this procedure is typically very quick, it is important to share with your doctor any concerns or preferences for sedation.
Once a tooth has been removed, neighboring teeth may shift, causing problems with chewing or with your jaw joint function. To avoid these complications, your dentist may recommend that you replace the extracted tooth.
---
Implant Restoration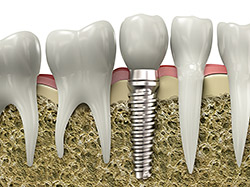 If you are missing teeth, it is crucial to replace them. Without all your teeth, chewing and eating can destabilize your bite and cause you discomfort. When teeth are missing, your mouth can shift and even cause your face to look older. Implants are a great way to replace your missing teeth, and if properly maintained, can last a lifetime!
An implant is a new tooth made of metal and porcelain that looks just like your natural tooth. It's composed of two main parts: one part is the titanium implant body that takes the place of the missing root, and the second part is the tooth-colored crown that is cemented on top of the implant. With implant treatment, you can smile confidently knowing no one will ever suspect you have a replacement tooth.
In addition to tooth replacement, implants may be used to anchor dentures, especially lower dentures that tend to shift when you talk or chew. For patients with removable partial dentures, implants can replace missing teeth so you have a more natural-looking smile.
---
Wisdom Teeth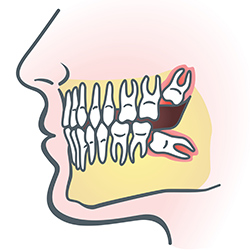 Wisdom teeth are types of molars found in the very back of your mouth. They usually appear in the late teens or early twenties, but may become impacted (fail to erupt) due to lack of room in the jaw or angle of entry. When a wisdom tooth is impacted, it may need to be removed. If it is not removed, you may develop gum tenderness, swelling, or even severe pain. Impacted wisdom teeth that are partially or fully erupted tend to be quite difficult to clean and are susceptible to tooth decay, recurring infections, and even gum disease.
Wisdom teeth are typically removed in the late teens or early twenties because there is a greater chance that the teeth's roots have not fully formed and the bone surrounding the teeth is less dense. These two factors can make extraction easier as well as shorten the recovery time.
In order to remove a wisdom tooth, your dentist first needs to numb the area around the tooth with a local anesthetic. Since the impacted tooth may still be under the gums and imbedded in your jaw bone, your dentist will need to remove a portion of the covering bone to extract the tooth. In order to minimize the amount of bone that is removed with the tooth, your dentist will often "section" your wisdom tooth so that each piece can be removed through a small opening in the bone. Once your wisdom teeth have been extracted, the healing process begins. Depending on the degree of difficulty related to the extraction, healing time varies. Your dentist will share with you what to expect and provide instructions for a comfortable, efficient healing process.